Anouncing the CLM - Fall Healing Retreat
Now Taking Reservations for the Fall Retreat on the EastCoast
"Touching the Frequencies of Heaven"
Nov 5-8, 2015 Edison, New Jersey
Upcoming Events
FREE - Healing Prayer and Communion Tele-Service
08/03/2015
$1.00
Private Retreat - Monks and Ordained of CLM
08/07/2015
$250.00
The WREN Shared Space, Berlin, NH - Healing Service
09/09/2015
$20.00
The Local Grocer, N. Conway, NH - Healing Service
09/10/2015
$20.00
Private Healing Session, Suffield, CT, BY APPT ONLY
09/12/2015
$50.00
Unity of Greater Hartford, CT
09/13/2015
$20.00
Body Balance Center, Pottersville, NJ - Healing Service
09/18/2015
$20.00
View All Events...

Our Vision
Celebrating Life is a growing and active interfaith spiritual community that nourishes itself and the global community through the Divine Presence in the form of loving service, devotion, and prayer. We provide healing services, spiritual growth programs, and gatherings for our spiritual family to experience, harness and expand the loving presence of the Holy Spirit in our individual and collective ministries. Celebrating Life Ministries also offers healing services, education programs, sacred travel opportunities, and semi-annual retreats to the general public.
For assistance in navigating our site, please contact us at pfunfsinn@yahoo.com. We hope you enjoy our web home.
Love God, Love Others, Love Yourself
Make sure to sign our Guest Book before you leave.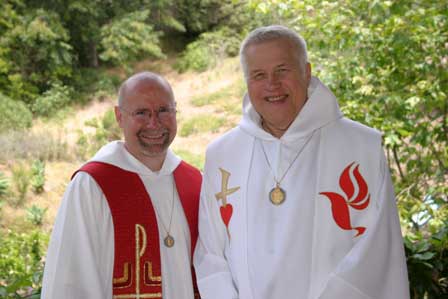 Co-founders Paul Funfsinn (L), Spiritual Leader and Director of Celebrating Life Ministries and the late Ron Roth (R), Spiritual Shepherd Emeritus.