Our Vision
We are a thriving, vibrant spiritual community devoted to a direct experience of the Divine, helping all people in their spiritual walk with the Holy Spirit toward living Christ consciousness, as embodied by Jesus the Christ, the Prophets, and the other great Enlightened Masters of all ages and traditions. Our community is rooted in the principle that there is only one religion—the religion of love.
Upcoming Events, Retreats & Pilgrimages
CLM's West of Heaven 1-Day Healing Event
Dec 10, 2016
Novato, CA
CLM's Spring Retreat 4-Day Healing Event
Apr 27-30, 2017
Morristown, NJ

Visit John of God on a Sacred Pilgrimage
Jul 03-15, 2017


Abadiânia

, Brazil
Events Calendar
Contact Us | Privacy Policy | Vision Statement | Guiding Principles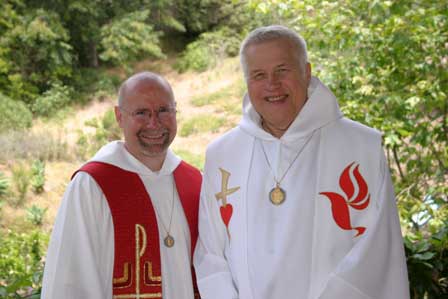 Co-founders Paul Funfsinn (L), Spiritual Leader and Director of Celebrating Life Ministries and the late Ron Roth (R), Spiritual Shepherd Emeritus.

Join CLM's Mailing List
Safe & Secure
Online Payments