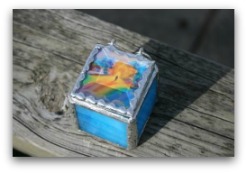 Come Holy Spirit Prayer Box
---
All boxes are handmade. We have a limited amount in stock but will be receiving more as our friend continues to make them for our Ministry.
Made with stained glass, this box can be used for your rosary, religious trinkets or prayers. Perfect for your dresser or night stand measuring 2.25 inches high by 2.5 inches wide. Made of a blue stained glass with high quality silver solder edges and silver findings hinge. A stained glass prism with a picture of Casa of the Saints on top. When you flip the lid you read: Love God, Love Others, Love Yourself.
Each prayer box is wrapped in tissue and sent in a gift box. This will make a beautiful present for a loved one, a wonderful addition to your altar, or this box makes a perfect gift to leave with someone in need.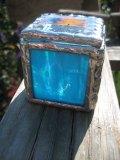 The beauty that went into creating these prayer boxes was a Divine setup and we often got goosebumps as we watched the flow and creation happen exactly as it was meant to be. The boxes can be used at prayer gatherings to hold prayer requests, they are non toxic and can be used for small communion services.




Come, Holy Spirit,
Fill the hearts of your faithful.
Kindle in us the fire of your Divine Love.
Send forth Your sacred wisdom,
and You shall renew the face of the earth.
Cause the ARK of Your Divine Might, to rest upon us,
who faithfully and wholeheartedly trust in you.
AMEN,

~ Ron Roth





$29.95 $25.00