Bulletin Board
Welcome to the Celebrating Life Bulletin Board. We encourage you to interact with other visitors, either by supporting them by relating your own healing experiences or by asking for support through mutual prayer.
This page will display the 25 most recent entries.

---
722.

May 10, 2013 01:50 PM
Paula is hospitalized in the ICU. She had a spasm in her heart which caused it to stop beating on May 8th. She needs our prayers for healing.

Thank you.
---
721. Susan Wallace
susan@susanwallace.com
May 03, 2013 05:40 AM
I am reminded that we need each other. At the retreat, when we stood for the healing service, I noticed my mind was busy, busy about how it would go, where we lining up correctly, etc. The minute we took hands in a circle, I felt well-being throughout my body and the busy thinking ceased. Connected in Christ, all is well!
---
720. Mary Celine, a CLM minister

May 02, 2013 02:27 PM
May we all be grateful for the blessings in our life and look to our heavenly father/mother God to supply all of our needs. Our God is a loving God; our God is a compassionate God; and our God is an eternal God. Glory and praise to him/her every moment of our lives!

---
719.

May 02, 2013 02:21 PM

Please pray for divine guidance and wisdom for a mother and teenage daughter to resolve their issues. The father and other children have been affected by their relationship.

thank you.
---
718. Dave

Apr 28, 2013 08:01 AM
Please pray for my daughter Hannah who is twenty years old and has suffered greatly from Crohns disease for the last five years. thank you.
---
717.

Apr 26, 2013 11:02 AM
Please pray for John Ruprecht, an elderly man who passed out and fell. He has a cracked skull and serious heart problems.

Thank you.
---
716. kr

Apr 20, 2013 09:01 AM
let my heart heal and want to live again----let go of being in love with someone who no longer loves me
---
715. Sandra Stahl
inlace92514@mypacks.net
Apr 14, 2013 01:12 PM
I have wet macular degeneration in my right eye which has caused me to go legally blind in that eye. The injections do not seem to be working to restore my sight. Please pray for healing for me .
---
714. Charlotte

Apr 09, 2013 03:02 PM
I humbly request your prayers for the well being of myself and my children. We all have needs beyond our control - especially financial ones at this time.

Thank you.
---
713. Carolyn
sislfflr1@att.net
Apr 08, 2013 01:54 PM
I am lookink for a little book by Fr. Ron Roth called 'The Prayer for Miracles' Is it still available.SC.Leffler If so PLEASE let me know!
Sislfflr1@att.net Thank you.
---
712.

Apr 08, 2013 09:38 AM
Mr. and Mrs. Strader are having having serious health issues. Family also request prayers for their salvation.

Also, Cathy and Frank, an elderly couple request prayers for Divine Guidance. They need to make decisions about moving back to Pittsburgh and finding appropriate housing.

Thank you.
---
711. Dawn B

Apr 06, 2013 09:41 AM
pray that the cancer in my knee and colorectal/hip area dissolves and that the pain from the shingles lower back would be gone and I be healed of all infirmity.
---
710.

Apr 03, 2013 08:47 AM
Please pray for Dolores Simmons who is experiencing a second mini stroke. May she recover completely.

Thank you.
---
709. Jeanne

Mar 29, 2013 01:08 PM
Please pray for me for my salivary stones on the right side of my neck. One was removed but there are 2 more and there is talk of removing my salivary gland if they don't come out on their own. I have taken some hard falls on my right side in the last several years and everything is compressed in my neck area. It may be related, not sure. Thank you for your prayers. Shanti
---
708. Linda wagner
Decorslw@gmail.com
Mar 29, 2013 07:18 AM
Please pray for healing of mind, protection and peace for my brother Gary at this challenging time. Please surround my whole family with protection and peace.
Praise God
---
707. Mary Celine, Celebrating Life Minister

Mar 28, 2013 03:19 PM
In all ways and at all times our God of mercy and compassion is with us. We ask for His healing touch and be believe that we will receive. Deo Gratias.


---
706. Rachel Dutilly
racheldutilly@verizon.net
Mar 21, 2013 09:57 PM
Please help me pray for my brother Dennis, a troubled Vietnam veteran. Everyone is his enemy. He is closed to all help, but I believe that God can touch his heart. Thanks
---
705. Susan Wallace
susan@susanwallace.com
Mar 08, 2013 08:48 AM
A few weeks ago when I found a red spot on my nose, I asked for prayer support and applied blessed water twice a day, each time affirming 'perfectly healthy skin.' Today the Dr said it looks fine. Please continue to pray with me and affirm 'perfectly healthy skin' for everyone. Thank you.
---
704. Liz

Mar 05, 2013 02:10 PM
For Kate, who has battled mental issues, weight and health issues. May she be open to the Spirit and guided to wisdom and healing.
---
703. Susan Wallace
Susan@susanwallace.com
Feb 22, 2013 01:01 PM
Where there is fear about skin cancer, may God reveal perfect health.
---
702. Rev Paul Funfsinn
pfunfsinn@yahoo.com
Feb 21, 2013 05:24 PM
Oh Lord, Release your Healing Presence on all those who seek you for healing and restoration.
Come Holy Spirit....All disease be gone in the Name of Jesus!
---
701. Dee

Feb 17, 2013 10:45 AM
Please pray that my second look cancer surgery shows that I am still cancer-free. I will 'pray back' :)
Many thanks to you.
---
700. Lidia
Lidita@Juno.com
Feb 14, 2013 02:01 PM
Please pray for me to be free from guilt and regret and to learn how to have self love, compassion and forgiveness for myself. I am also trying to develop a relationship with God/Spirit and to learn how to pray.
---
699. Valerie

Feb 07, 2013 11:33 AM
Please say a prayer for Gary Merrick, my friend's son, who is gravely ill with an undiagnosed brain condition. He has a wife, children and mother who are desperate with worry. Thank you
---
698. Valerie

Feb 07, 2013 11:27 AM
Please say a prayer for Gary Merrick, my friend's son who is gravely ill with an undiagnosed brain condition. He has a wife and children who are desperate with worry. Thank you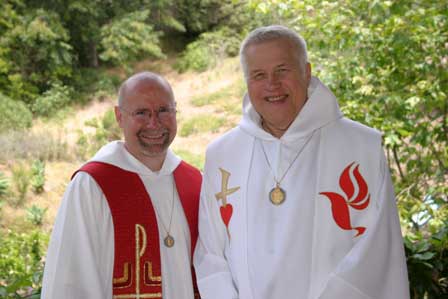 Co-founders Paul Funfsinn (L), Spiritual Leader and Director of Celebrating Life Ministries and the late Ron Roth (R), Spiritual Shepherd Emeritus.